Ordabasy industrial zone in Shymkent (hereinafter – Ordabasy IZ) started its activities since the first quarter of 2011.
Ordabasy IZ is located in the territory of former tyre plant and occupies the area of 143 hectares.
Akimat of the South Kazakhstan oblast has been at the forefront of Ordabasy IZ foundation.
Ordabasy industrial zone LLP is a managing company.
Main goals of the Ordabasy industrial zone establishing are as follows:
Creation of the high-technology, import-substituting and export-oriented productions.
Assistance and contribution in development of small and medium entrepreneurship in Shymkent industry.
Development and promotion of the Kazakhstan non-recourse-based export with involvement of direct domestic and foreign investments into priority economy sectors.
Currently in the territory of «
Ordabasy
» industrial zone there exist following productions which deal with output of:
rolled metal products,
metal structures,
engineering goods,
wind shields,
plastic pipes,
fittings,
soap,
construction materials,
washing liquid filling,
energy-saving incandescent lamps
as well as:
transportation, logistics and storage of cargos,
greenhouse economy.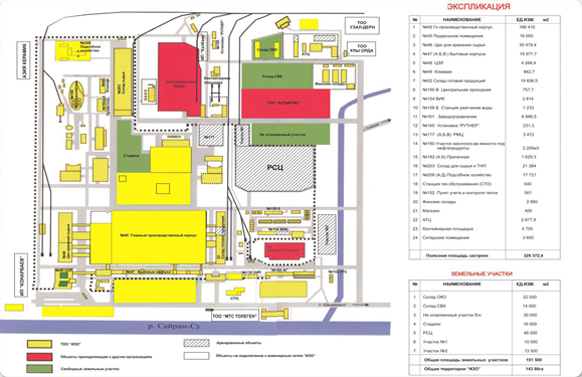 For 2011, Ordabasy Industrial Zone LLP has performed the required set of measures aimed at repair-and-reconstruction works including:
overhaul and cosmetic repair of the buildings;
overhaul repair of the main infrastructure networks: water pipeline, railway track, locomotive, railway and portal bridge crane;
cleaning and planting of entire territory of the industrial zone;
large part of the territory: road traffic and approach tracks around operating enterprises has been covered with asphalt and concrete;
own automatic telephone station has been erected,
building of the customs checkpoint has been constructed and technically equipped;
own railway dead-end siding is available.